Above: In this bedroom, designer Amy Berry creates a relaxing respite from everyday hassles with a muted color palette, soft textiles, and luxe textures.
After a long day of work, appointments, endless emails, and errands, nothing could be more comforting than to return to a romantic home. By "romantic", we don't just mean atmosphere-enhancing details like gauzy curtains, soft music, and candles. Instead, we are referring to decor that has a more feminine, luxurious feel. Here are some of our favorite pieces that'll bring a little more romance to your day-to-day life.
For The Foyer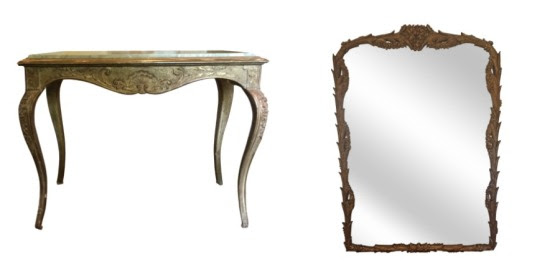 Imagine the first thing you see that sets the tone of your home. With its faux marble top and curved legs, the antique French Gilt Wood console table from East and Orient Company strikes just the right romantic note. The ideal pairing for this piece is a detailed mirror — like the antique Carved Gilt Wood mirror, which has a frame embellished with a carved floral motif.
For The Living Room
The Ebanista Castille sofa invites you to relax with its soft lumbar pillows and high, supportive back. Its curved arms and skirt are the hallmark of European romantic style. For a more colorful alternative, the B. Mori & Co. Silk Velvet Jaguar sofa has an entrancing moss-green hue that's enhanced by the rich texture of the velvet (along with the Dupioni silk welting).
For The Dining Room
Look for a table with curved legs, such as the Rococo-style round dining table by B. Mori & Co. Its gilded paint finish highlights the incredible carved details you'll find through the base. Then, pull up an elegant chair, like the Whistler lacquer side chairs by Barclay Butera.
For The Kitchen
Though it's not often thought of as a romantic space, a key detail can bring a little extra charm to the kitchen. The easiest way is to add a stunning chandelier over your kitchen island. We love the decorative leaf details and bronze iron finish of the Double Scroll oval chandelier from GaulSearson Ltd. Another beautiful choice would be the Val chandelier by Pouenat for Interieurs. Its sheer organza shades delicately filter the light into an evocative glow.
For The Bedroom
Add glamour to the bedroom with this Edward Ferrell & Lewis Mittman Lombard queen bed. The gorgeous tufted headboard is covered in a light-blue linen fabric that's set off by contrasting ebony lacquered wood trim. Then, set the stage for romance with these antique crystal five-candle sconces, which channel "old world" European style. The drop crystals and garland also glimmer in the light from the candle-inspired bulbs.